Reflections of Sept. 11

Text by Barb
Photos by Barb & Ed

Sign our

guestbook
Click here for our slide show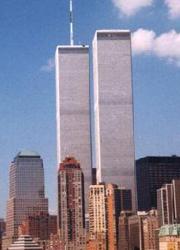 We saw the second plane hit on TV. It happened only a few miles from us. We felt a need to see it, to validate reality.

We went to City Island, a section of the Bronx due northeast of the World Trade Center with a direct view of the distant towers. Ed, Karen and I spent the five-minute drive listening to the radio, in shock over what was happening to our city, and later the world.

There were about a half-dozen of us watching both towers burn. A guy next to us was watching the news on a portable TV. As we are shaking our heads, he yells out, "they hit the Pentagon," and a minute later he screams warnings of nuclear warfare before running off. Ed waves his hand in dismissal, while Karen and I look at each other, feeling scared and very vulnerable, believing a nuclear attack is possible.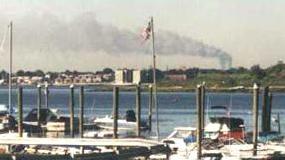 We sat on a park bench watching and crying, until we had enough. After walking to the car, we turned to look at the towers again and all we saw was a huge cloud of white smoke. We got into the car and turned on the radio to hear that the first tower had collapsed. We pulled into a lot and watched as the smoke spread. Karen felt ill. We all felt ill.
Over the next few days, Ed stayed glued to the TV and read every paper from cover to cover. Lots of friends called to see if we were OK and to talk. Everyone needed to talk. I became frightened. Didn't want to travel. Didn't want to do much of anything. Just wanted to stay home.
We were very lucky -- no direct losses from such horrific acts potentially affecting friends and family in New York, D.C. and Boston.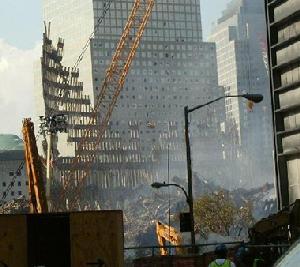 About a week later, we started to come out of it and on day 10, we went to New York City for the first time after September 11. As we drove down the FDR Drive, we saw the first signs of additional security -- a checkpoint at the UN, Coast Guard Boats in the East River, a motorcade of important officials.
We parked at Union Square, met our friend Diane and took the subway downtown to Fulton Street.
We got off the subway and were hit with an acrid smell of burning rubber, which became unnoticeable after the first 15 minutes. The day was warm and hazy and the air was thick. We started to walk up to Broadway. The crowds were heavy, curious, sad, shocked and tearful. Many people wore respirator masks, some covered their mouths with cloth.
Police lined the street, keeping pedestrian traffic moving. They were understanding but firm, asking people to take their pictures and move on. There was a spot across from One Liberty Plaza where people could stand and look toward the remains of the Trade Center. Many stood and stared. Others took pictures. Some were describing the scene into cell phones. Strangers struck up conversations, sharing their stories with one another.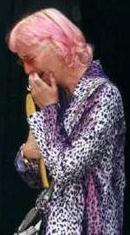 We stayed there for a while, watching the recovery process. Huge cranes, many stories high, carrying cages of people into the wreckage, one dump truck after another taking debris away, other machines tearing away at the rubble, pulling steel apart from a burned-out building.
We moved on, heading south on Broadway. Passing Trinity Church, we noticed how clean the building was and were amazed at the cleanup of the cemetery. Days before, it was covered with white ash and paper.
The buildings along lower Broadway appeared undamaged, but the humming of emergency generators and the sight of people carrying office papers and belongings out of offices in paper bags was a reminder of how business was not as usual. We passed the Bull at the bottom of Broadway. It was adorned with American flags and an FBI wanted poster of Bin Laden was taped to its ass.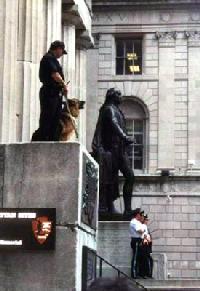 We continued to walk toward Battery Park, where the National Guard was camped out. It was strange to see camouflaged vehicles parked all over. We walked back up Broadway, down toward Federal Hall and the Stock Exchange. The sight of George Washington guarded by uniformed officers and a police dog was striking. We were briefly interviewed by a couple of writers from a Cambridge, Mass., paper, here for the day to get a story.
It was time for a break, so we decided to follow the mayor's request to patronize a local business and went to an area pub for much-needed refreshment. We talked with our waitress, the owner's wife, who told us that many of the businesses have not returned, but their customers have been calling to make sure they were OK and coming in. By 6 p.m., the bar was packed and it was time for us to move on.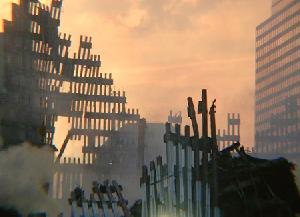 The sun was setting now. Broadway was much quieter. The police backed off of moving people off the sidewalks and we were able to lean against a rail and watch. The feeling was little different, as was the view. The sun's reflection in the building windows, coupled with the lighting at the site, gave things a much different perspective. Then something unexpected: Coming out from behind the fences of the site, we saw a police motorcycle procession. It was followed by a red golf cart, with a fireman sitting in the front seat, helmet held over his chest, and a corpse draped in a flag behind him. Heads bowed. No pictures were taken.
We put our arms around each other. We needed comfort.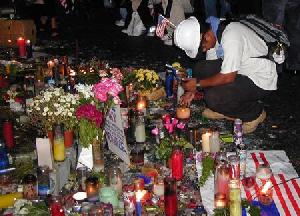 The subway back uptown was crowded. New Yorkers were out on a Friday night. Union Square was packed, but in a strange way it was comforting. Maybe it was the memorials going on, watching people gather to talk and pray. Maybe it was the calming effect of the candles. Maybe it was listening to drums and antiwar chants that brought me back to the '70s. Maybe it was putting a fingerprint on a canvas that would become a piece of art.
Now hungry, we felt compelled to eat in the city. So we went a restaurant, which under normal circumstances would have been very difficult to get into on a Friday night, and were seated right away. The hostess told us what a bad night they were having. The music was canceled. Still, we had a great meal. N.Y. still knows how to cook.
As we drove up the West side, we noted how strange it all felt -- here we were leaving the city as we do many times a month, just north of a devastating act that left the most number of Americans dead on our soil in our country's history. Yet where we were, at that moment in time, it seemed otherwise a typical night in N.Y. Very surreal.



Click here for our slide show
Sign our

guestbook
Home
Text & Photos by Barb and Ed
Copyright © 2001-2005 BarbAndEd.com